Imagine if the water in your pool was fit to drink ?
With the world's best quality water on tap, Aussies appreciate the benefits of freshwater. Yet when it comes to our nation's favourite pastime, we've all accepted that chlorine and saltwater were the natural order of things. Not anymore.
A breakthrough new system by Naked Pools can safely and effortlessly purify your pool water without need for adding chlorine, high salt or expensive minerals. The health benefits are crystal clear.
Discover the fresh alternative to chlorine, salt or mineral based systems.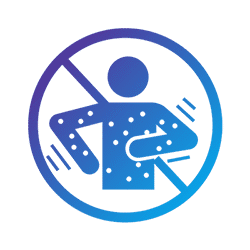 No more red eyes or irritated skin, making it ideal for asthma or eczema sufferers
Chemical-free so there's practically no need to shower afterwards or even wash your swimwear
Close enough to the natural balance of freshwater you could drink it, making it safer for pets
"We thought that the System was going to be good, but WOW!"
How do freshwater pools work?
The clearest breakthrough in backyard pools is here, with Naked Pools – the innovative new system that safely and effortlessly purifies your pool water without need for adding chlorine, high salt or expensive minerals.
The hybrid Naked System is made up of a digital control unit which supplies and manages current to the electrode assembly (OXI & ION Cell). Electrolysis passes through the copper and silver anodes, releasing the ions into the water. The silver disinfects the water controlling bacteria and the copper prevents algae growth. The minerals left in the water form a residual that continues to sanitise the water. It is not affected by UV or heat like traditional sanitisers. Not only does this mean you do not have to add additional chemicals such as stabiliser or clarifiers, but the continuous effects of the minerals means you can run the system for half the time of traditional sanitisers.
Swimming as nature intended.™
Imagine swimming in silky smooth freshwater with no chlorine stench or red eyes, no need for sensitive skin lotions or even showering after a dip. It's swimming as Mother Nature intended, pure and simple.
It's the healthier choice for families and great for the environment, with lower running costs and longer lasting equipment. Producing crystal clear water that looks and feels amazing, all year round.


No red eyes or irritated skin
Perfect for asthmatics, psoriasis and eczema

Up to 50% savings on running costs
Recycle pool water to your garden
Longer lasting equipment and pool surrounds
No washing swimwear or showering after use
Far less maintenance than traditional systems
Comparable to your household tap water
Lowest levels of TDS delivers clear fresh water
Rejuvenating and refreshing
"Fantastic system. Every pool owner should have one of these installed if they want to swim in a chemical free pool and most importantly look after their family. I highly recommend that you give Naked Pools a call as you will not be disappointed. Happy swimming here."
"We had a pool built a year ago and were going to install a salt water system as this is what we had at our old property. Luckily a neighbour recommended a fresh water system and we opted for a Naked Pools system. It was the best move we could have ever done.
My client was spending more than $300 per month on hydrogen peroxide and still couldn't keep the water clean. After installing the NKD1 system, within 2 days the water has never been clearer and they're saving a fortune on running costs. You guys are legends!
5.0 ratings from customers
TDS levels at record lows (800-1000ppm)
Slimline power pack for easy installation
Easy to use, multi-function digital display
Reverse polarity self cleaning cell
Unique custom designed snap-lock OXI & ION plugs
One button winter mode function
Designed and engineered by one
Adaptable to work with external automation solutions
Precise touch pad and time clock control
Variable OXI and ION control to suit any environment
Pump protection – auto cut off
Single button OXI Boost feature with variable running time
Electrodes constructed from highest grade titanium for longer life
One size unit suitable for pools up to 150,000 Litres
Suitable for concrete, fibreglass, vinyl and tiled pools
Internal temperature control reducing internal heat for longevity
Digital interface with simple navigation
Automatically customised to the size of your pool & spa
Intelligent backwash mode steps you through the process
Retrofit any existing pool or spa
So what are you waiting for? Jump in, the water's fantastic.