Hydrau-Power Commercial Plastic Pump
For commercial pools, aquatic parks, and seawater facilities
The Emaux Hydrau-Power pump is a series of powerful and robust pumps engineered for applications requiring high flow capability and efficiency. The pump is constructed with high strength and corrosion resistant thermoplastic materials and equipped with a large capacity strainer. The Hydrau-Power pump is suitable for a variety of different applications includes all types of commercial pools, aquatic parks, and seawater facilities.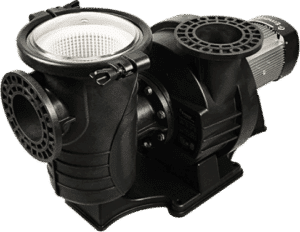 High volume self-priming plastic pump ideal for large filtration system
Proven hydraulic efficiency up to 91%
Premium Efficiency IE3 Class Motor ( compliance IEC 60034-30)
Francis-vane impeller allows for broadband efficiency and large flow region.
Smooth throat volute design facilitates the high work efficiency
The work frequency can be control externally by Variable Frequency Drive (VFD)
Fiber reinforced plastic casing provides substantial temperature, pressure, vibration and impact performance.
Secondary seal chamber as the water leakage and vaporize blocker to the motor.
Large suction-side detachable strainer capacity in 13 and 30 Liter.
Low noise level up to 68dB
IPX5 Waterproof Standard
With the first-class hydraulic design, Emaux Hydrau-Power Commercial Pump is engineered with Premium Class Motor and Flow & Efficiency Optimised Impeller which have a significant impact on the reduction of energy and the total energy operating cost.
The shaft is extended for the formation of the secondary chamber. As a water leakage and vapor blocker of the motor, the secondary seal chamber highly protects the motor and enhances its seawater corrosion resistance.

The "closed" (double shrouded) impeller with Francis Vane design is known for its high efficiency in pumping hydraulic designs. The impeller is made by injection moulded glass-reinforced thermoplastic. The unique technology highlights the advantages of the Emaux Hydrau-Power pump.

Motor
Premium Efficiency IE3 Class Motor
Working Voltage
380Vac 50Hz, 3 Phase
Design Methodology
Advanced computer 3D design modeling for CFD analysis
Design Reference (Applicable only)
ISO 5199 : 2002
Operation Pressure
0-2 bar 25°C to 35°C
Temperature Range
0°C to 45°C (Water)
0°C to 45°C (Ambient)
Water Proof
IP55
Flow Rate
Up to 280m3/h
Differential Head
Up to 22m
Speed
2 pole up to 2850 rpm
4 pole up to 1450 rpm
Insulation System
Class F
Flange Standard
DIN (PN10)
ANSI (Class150)
Contact us for more information