Harvia Vega, Easy-to-use novelties!
Harvia Vega is an elegant heater that is easy-to-use because the operating switches are placed ergonomically on the side of the heater. Designed with Stainless Steel outer casing design makes Heater more modern. Switches are placed in upper part and hide side of heater for easier operation.

Harvia Cilindro, Top-Quality Steam in Large Saunas
The Harvia Cilindro electric heater contains a massive amount of stones. Thanks to the grate-like outer shell, each bather can adjust the nature of the steam: soft when throwing water onto the side of the heater and sharp when throwing water straight on top of the stone pillar. Cilindro is impressive to both look at and experience.

Sweating can eliminate fatigue
The heat from a sauna soothes your nerve endings and warms and relaxes muscles, in turn relieving the tension from your body and minimizing joint pain.
This is especially beneficial for those who suffer from illness such as arthritis, painful migraines and headaches.
Sauna can be used as a mean of calming the body and relieving it of stress.
If you suffer from insomnia (one third of people have a mild case), it can also induce sleep.
The heat from the sauna help body release endorphins, a feel-good chemical that reduces the effect of stress on the body which can relax you enough to sleep better.
Saunas open up your pores and increase blood and lymphatic circulation which will effectively aid in softening your skin You will notice a healthy pink glow your skin, which will make you look younger, so not only will you feel good but you will also look rejuvenated.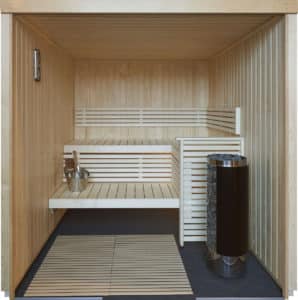 Relaxing Moments & Natural wellbeing
In a Harvia sauna, the essential elements of nature – wood, stone and water – combine to create a relaxing oasis of well-being.
| Specification | BC23 | BC35 | BC45 | BC60 | BC80 | BC90 | BC60SE | BC90SE | BC105 | BC135 | BC165 |
| --- | --- | --- | --- | --- | --- | --- | --- | --- | --- | --- | --- |
| Power (kW) | 2.3 | 3.5 | 4.5 | 6.0 | 8.0 | 9.0 | 6.0 | 9.0 | 10.5 | 13.5 | 16.5 |
| Room Size (sq.m) | 1.3-2.5 | 2-4.5 | 3-6 | 5-8 | 7-12 | 8-14 | 5-8 | 8-14 | 9-15 | 11-20 | 16-30 |
| Stone Capacity (kg) | 12 | 12 | 25 | 25 | 25 | 25 | 20 | 20 | 50 | 50 | 50 |
| Dimensions (d x w x h) | 39.5 x 28 x 50.5 cm | 39.5 x 28 x 50.5 cm | 31 x 48 x 54 cm | 31 x 48 x 54 cm | 31 x 48 x 54 cm | 31 x 48 x 54 cm | 38.5 x 45 x 56 cm | 38.5 x 45 x 56 cm | 47 x 43.5 x 64 cm | 47 x 43.5 x 64 cm | 47 x 43.5 x 64 cm |
| Specification | PC70E | PC90E | PC100E | PC135E | PC165E | PC200E |
| --- | --- | --- | --- | --- | --- | --- |
| Power (kW) | 6.8 | 9.0 | 10.0 | 13.2 | 16.6 | 19.8 |
| Room Size (sq.m) | 10 | 14 | 20 | 20 | 30 | 30 |
| Stone Capacity (kg) | 80 | 80 | 140 | 140 | 140 | 140 |
| Dimensions (d x w x h) | 32 x 32 x 93 cm | 32 x 32 x 93 cm | 32 x 32 x 93 cm | 32 x 32 x 93 cm | 32 x 32 x 93 cm | 32 x 32 x 93 cm |
Contact us for more information